Are you thinking of a modern kitchen remodeling for your home? It's easy to get caught up in the flair of contemporary kitchen designs and miss out on the most important needs.
A multi-functional kitchen island
If you have the space, an island unit adds to the visual aesthetics and increases the utility of a large kitchen. It can give you more room for storage and increase the size of your work area.
Here's how you can put a kitchen island to best use:
Install a stove top.
Install a microwave.
Install a sink or a dishwasher.
Install a wine fridge or a wine rack.
Include shelves and cabinets for extra storage.
Add seats to turn it into a dinner counter or workstation.
When positioning appliances, keep in mind that the working triangle rule indicates that workspaces should be 4 to 9 feet apart to enable easy movement and efficient working. Kitchen islands are typically 36 or 42 inches high. 42 inch islands are usually two-tired and accommodate elevated seating like in bar areas. 36 inch islands, on the other hand, are simpler and show uniformity.
Smaller kitchens can incorporate smaller kitchen islands, owing to their multifunctionality that can actually help save space. Just make sure to leave a minimum of 40 inches around the island. Be sure to take into account space for the fridge, oven, and cabinet doors or drawers.
A kitchen island when designed properly can transform your kitchen into a highly functional and interactive space.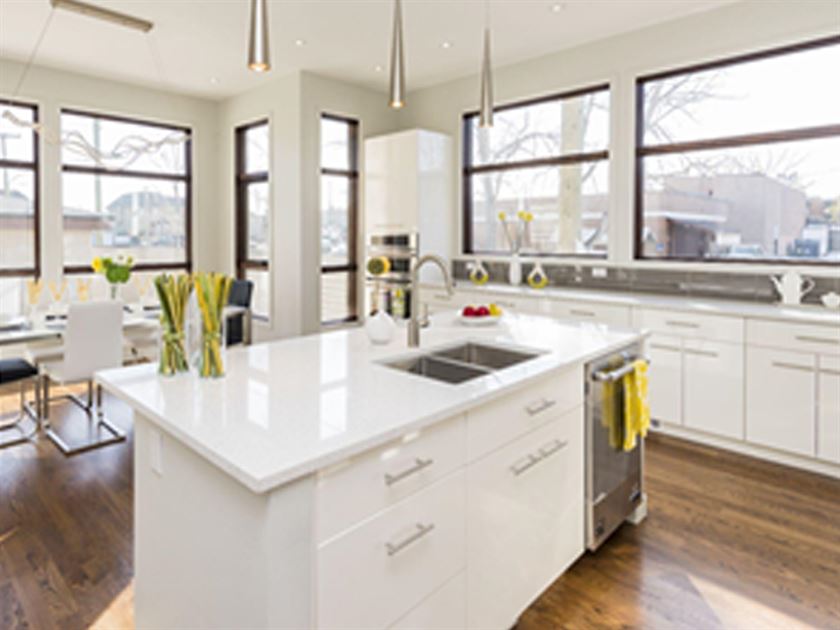 Customized kitchen cabinets and drawers
Being the kitchen's primary furniture, cabinetry can make or break the look of your kitchen. It's only fitting that these long-term pieces of furniture are designed and crafted to reflect their homeowner's personality and storage needs.
When designing your kitchen or while remodeling it, there are a number of cabinet features that you can choose from and add-in. Some of them include:
Pull-out racks for a built-in pantry or base cabinets to store groceries, recycle bins, or small appliances like a coffee maker
A Lazy Susan
A wine rack
Inner drawers to maximize space
Drawer dividers for customized storage
Cabinets can be fitted around appliances like a refrigerator or an oven as well. Accessorize them with no-slam soft-closing hinges and drawer glides or pull-out racks as fitting. When customizing cabinets, you get to define the design based on how and what you want to use them for. So don't hesitate to get creative, but make sure to consult with a design expert so you don't miss out on options.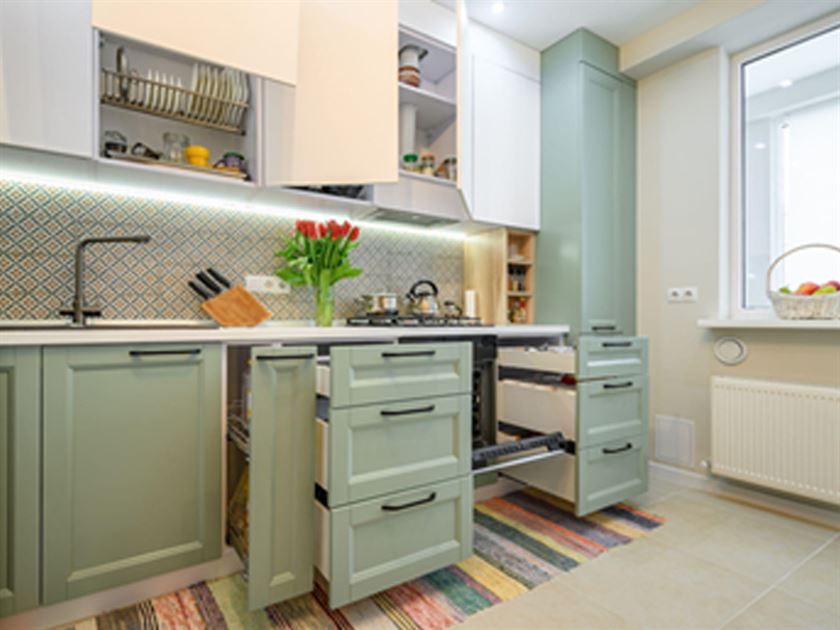 Built-in kitchen pantry
With a built-in pantry, you get to store all your dried goods and some cooking tools in a single cabinet, freeing up all others. If you don't have the space to include a traditional walk-in pantry, a generous-sized built-in pantry is your next best option! After all, if possible, a kitchen pantry is a must-have and cannot be forgotten while remodeling.
The first thing to think about when wanting to install a pantry is the space you've got. In most cases, pantries are cramped into a corner, which means you'll need an efficient design for optimal storage. While browsing ideas for your custom pantry layout, make sure to consider the following so that you have easy access to food and supplies:
Shallow drawers and shelves
Shelves that fold down
Cabinets with sliding doors
Lazy Susan cabinet
Pantry cabinets are typically 84, 90, or 96 inches in height. Sometimes, two smaller cabinets are stacked one on top of the other to give a more divided and tall pantry. Small spaces between the pantry and the ceiling are simply covered with decorative moulding, while larger spaces are filled with a soffit if you'd rather not have them open.
Standard pantries vary in width from 9 to 36 inches, usually in increments of 3, so that you can pick one that fits into your space easily. Their depths range from 12 to 27 inches.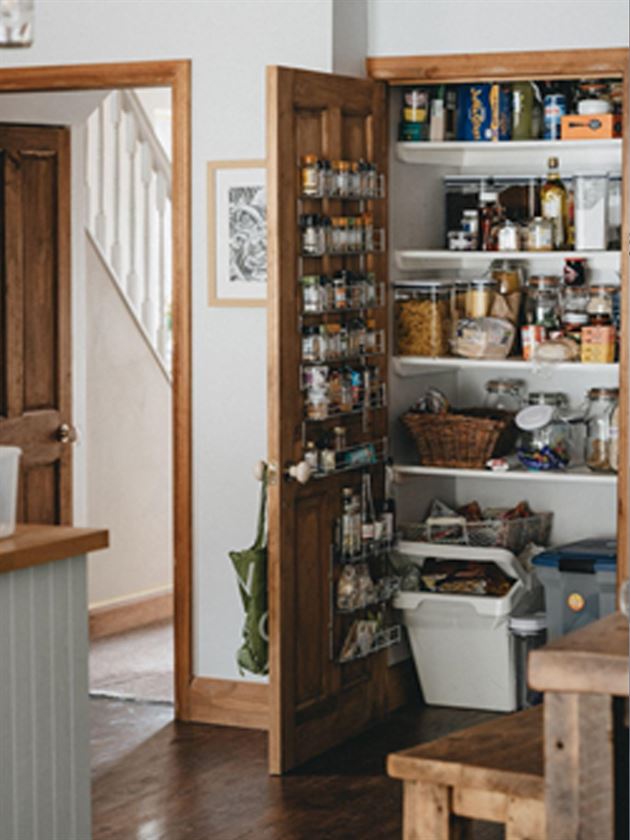 Mix & match countertops
Furnishing your worktops with more than one material can help you customize your kitchen area further with colours and textures. You can experiment with contrasting light and dark colours, but avoid using chaotic patterns that don't complement each other.
Apart from appealing visually, having a counter with a combination of materials practically helps differentiate linear spaces on the countertop. For example, use wood with a beautiful grain pattern for the part of the counter that duals as your dinner area, and stain-resistant materials with minimal or no patterns for the food prep area.
However, picking out materials for worktops can be tricky, especially if you're on a budget. In which case, use more costly materials like marble or granite in the most prominent places and accent the surroundings with butcher blocks or engineered materials.
In areas that are prone to more spillage and stains use easily cleanable materials, like cultured/engineered stone or laminate. And use heat-resistant materials like concrete, or natural stones like quartz and granite around the stove.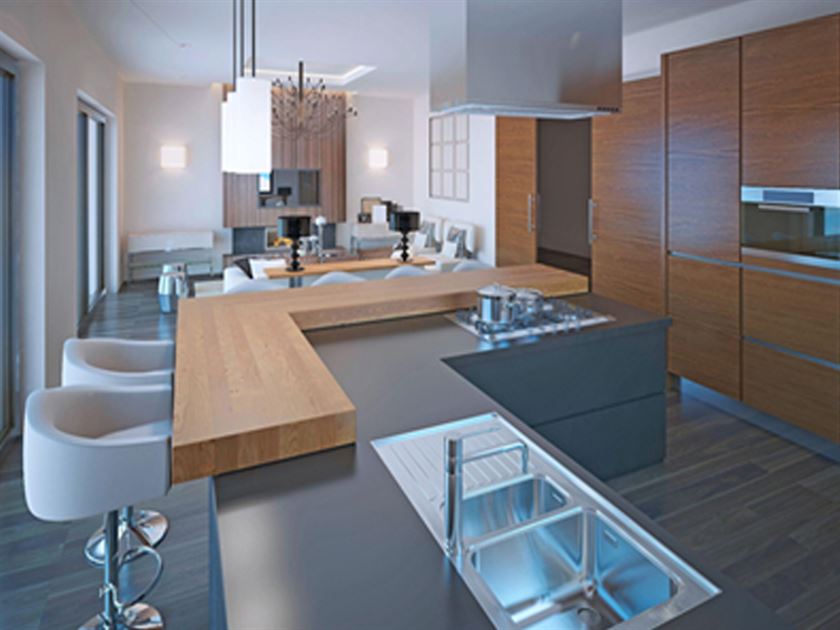 Backsplashes
A backsplash can elegantly add colour and character to your kitchen without overdoing it. You can choose a backsplash to cover an entire wall, fill up space between cabinets, or pop a focal space.
The ideal material for a kitchen backsplash is one that is durable and resistant to heat and stains while maxing out your style quotient.
Metal sheets (such as tin or copper) are moisture-resistant, easy to clean, affordable, and come in a wide variety of patterns and colours.
Granite and marble are durable and highly heat and stain-resistant.Although more costly and slightly porous, granite and marble are available in beautiful colours and patterns.
Porcelain and ceramic tiles are the most popular material used for kitchen backsplashes owing to their affordability, resilience, and vast range of colours and patterns.
When it comes to picking colours for your backsplash, you need to first decide whether it is the focal point of your kitchen or not. In many cases, the countertop can be the center of attraction. Backsplashes and countertops should complement each other; they should either be the same or be contrasting. The rule here is simply that if you have a busily patterned countertop, don't have a busy backsplash.
The kitchen, being the center of a home, should mirror the owner's style. In essence, it's best to have a custom layout that you can efficiently and comfortably work around. Plan the layout around your everyday chores and events. Do you host dinner parties? Do you need extra space? Install a built-in pantry or some custom cabinets for smart storage.