Be it a long shower, a hot bath, or just some quiet time, we all tend to relax in the bathroom – and it's only right that it gets the upgrade it deserves. So here are some popular vanity designs that can help make your bathroom a class apart.
Traditional, transitional, and contemporary
These are the 3 main design style categories in today's market. Though modern products, traditional designs generally reflect an old-fashioned look, often having ornate details. Imagine an antique dresser or table's decorative details.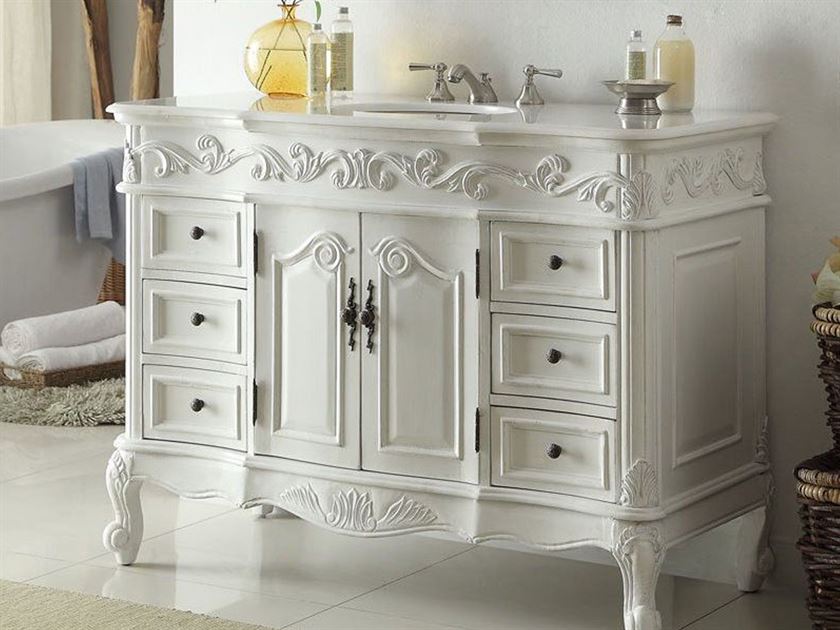 Contemporary is modern: usually sleek and streamlined with slab wood or glossy surfaces. Minimalist wall-hung vanities are a perfect example. The simple design and finishes of contemporary vanities lend them to coordinate easily with bold colours and patterns.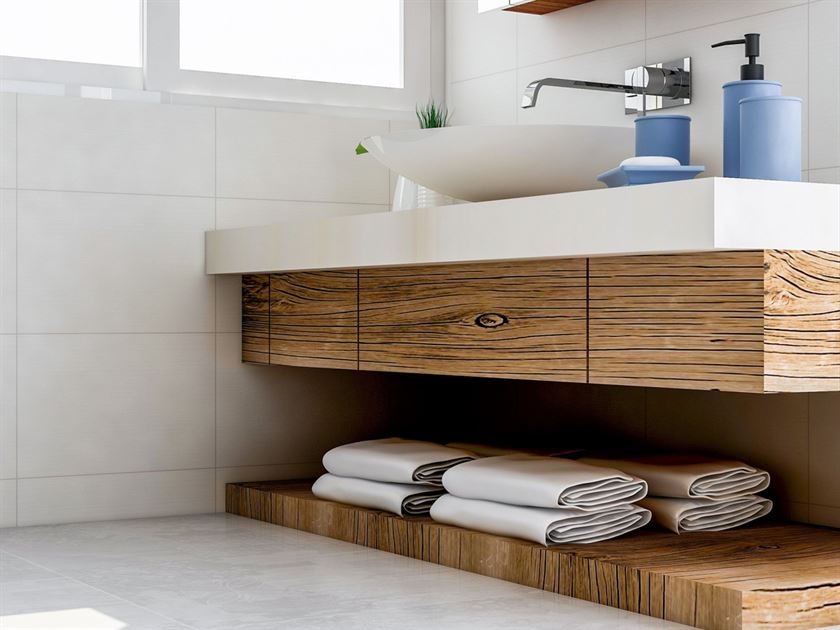 And transitional styling blends contemporary and traditional together: a more modern spin of traditional vanities, where trim and decorative details are more simple and streamlined.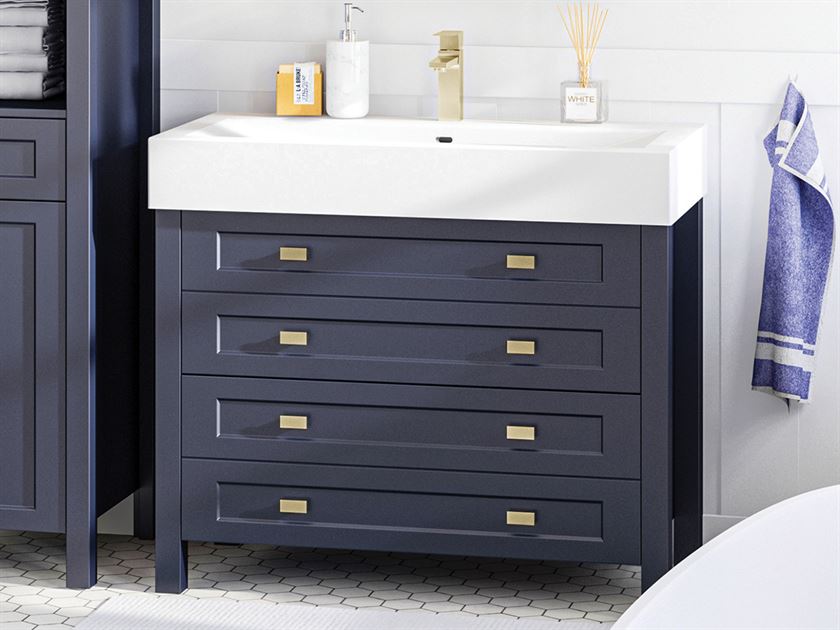 Less is more with wall-hung floating vanities
Simplifying is something that has been growing in popularity in all aspects of life. And a clean, minimalist look gives an open, airy feeling and can also save you money. Light neutral colours are best to achieve this look, but can be balanced with a dark cabinet, floor or walls. Wall-hung vanities are continuing to grow in popularity and are perfect for this style as their modern design is often simple and streamlined, and they take up less space.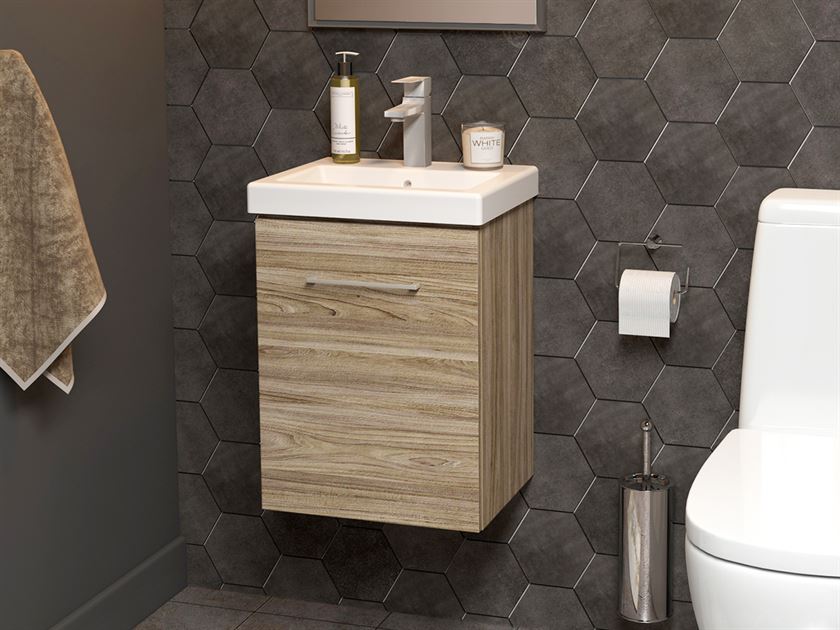 Hardware
Metals like nickel, chrome and pewter have been the standard for bath cabinet hardware. These hardware finishes are great options to coordinate with cooler décor colours such as blues and greys and are generally a lower cost compared to other finishes if you're on a tighter budget. Darker and warmer finishes such as oil rubbed bronze, black and copper beautifully complement lighter-shade vanities and vanity tops with a rich sophisticated, yet modern look. Matte gold and rose gold hardware are also making a comeback: matte gold coordinating with white and light cabinetry, and rose gold with white and grey cabinetry, giving an elegant, royal feeling.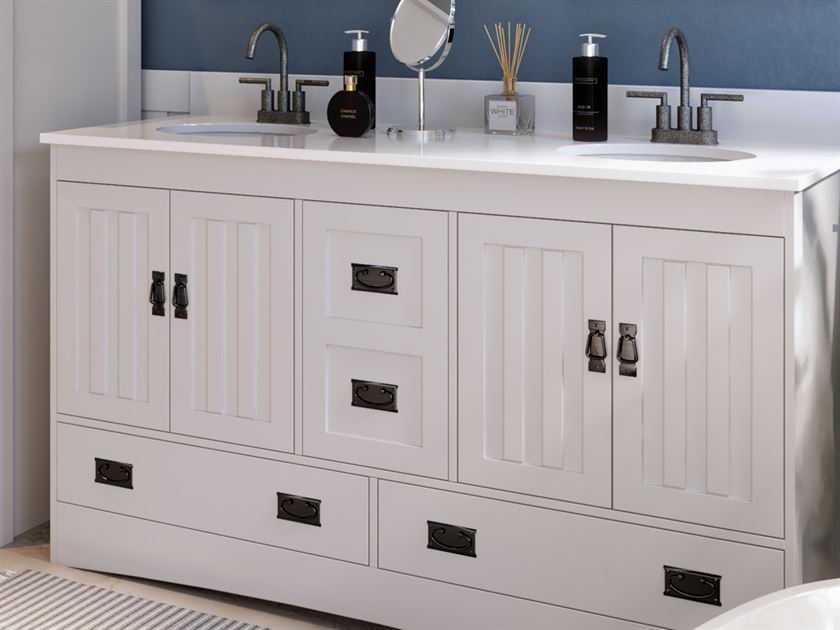 Space savers
Space-saving vanities (usually with a shallow-depth) are perfect for smaller bath spaces and powder rooms. They give concealed storage (perfect for toilet paper rolls and cleaning supplies) which traditional pedestal sinks can't provide.
Space-savers are also an excellent option for additional bathrooms added to the home (such as a new basement bathroom) as they take up minimal floor area, to not impose on existing space. Styles vary from modern to transitional and can contribute to a contemporary, minimalist look.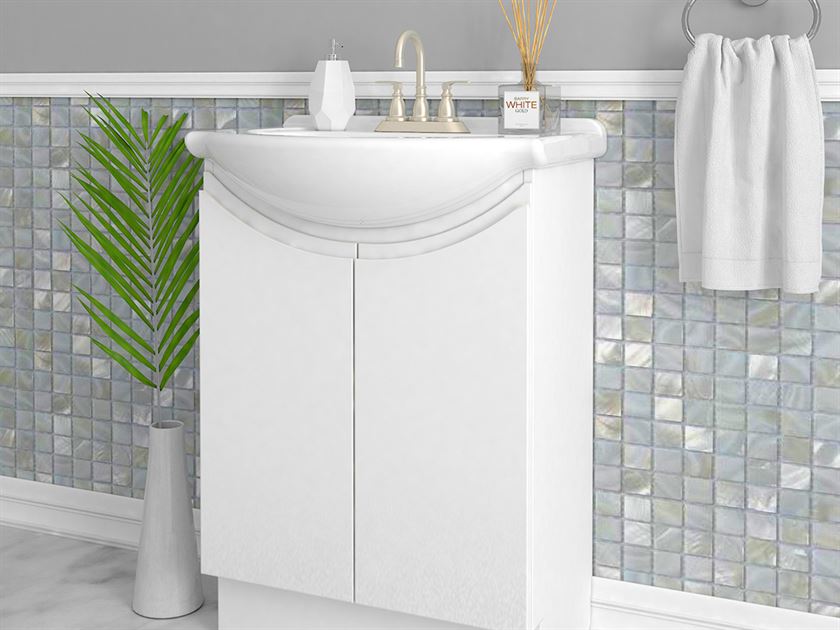 Undermount sink
Sinks that sit on the countertop (where the brim of the sink sits on top of the countertop) have been in the industry for many years. But for a more refined look, an undermount sink (where the brim of the sink is attached to the bottom of the countertop) has gained much popularity. Undermount sinks also come in different shapes (round, square, rectangle) and materials (porcelain, metal) to fit with your design style.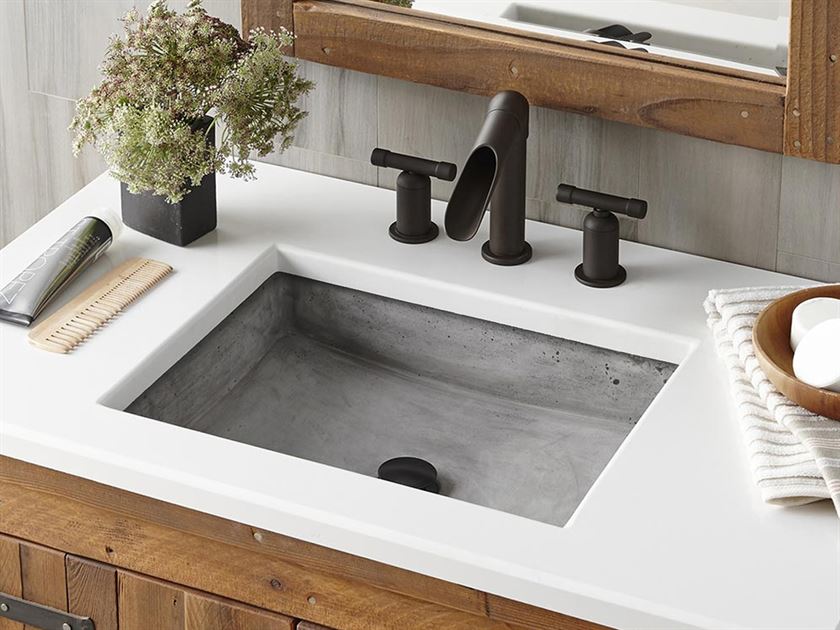 Open concept vanities
Vanities with legs or open shelves are extremely popular in today's bathrooms. The open shelves allow storage for decorative baskets, towels and toiletries. You can even re-purpose an old table and convert it into an open concept vanity by adding holes for the sink and plumbing – it saves money and you get to give old furniture a new life.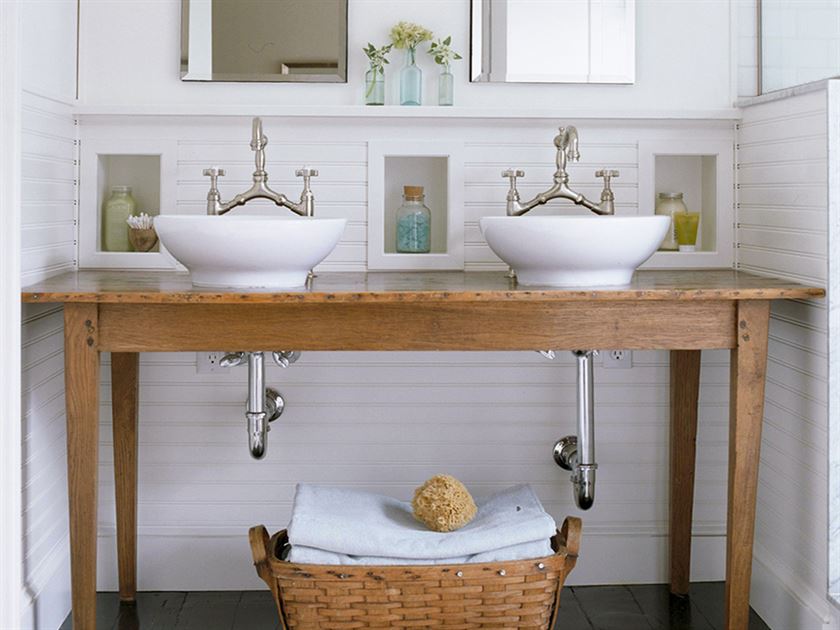 Vessel sink vanities
Vessel sink vanities have been used widely in upscale restaurants and hotels but have now made it into our homes. This type of vanity is perfect to give a 'wow' factor, by showcasing a beautiful vessel sink. Vessel sinks are available in many materials such as glass, stone, metal and porcelain, and are also available in many colours and patterns.
A white vessel sink is perfect to coordinate with a simple minimalist look, whereas a metal sink (such as a hammered tin) can give a modern industrial look. A stone vessel pairs beautifully with woods for a natural, spa feeling.
Colour and pattern can make a big impact with vessels, such as a beautiful mosaic, farmhouse-inspired printed pattern, or vibrant shade. Often, the vessel's colour as a focal-point will inspire the coordinating colours for the rest of the room.
The vanity cabinets are also available in various materials and designs to fit with your look. And like open concept vanities, you can re-purpose an old table and convert it into a vessel vanity by adding holes for the sink and plumbing.