A small space can be challenging to design, especially if it's a bathroom. You have to incorporate a lot of things, all while leaving space to move about freely. If you're looking for ways to update or remodel a small bathroom space, here are tips to follow.
Mirrors
Mirrors can make a room look bigger than its actual size, so adding a mirror is one easy way to make a small bathroom look bigger and brighter. The best place to have a mirror is above the bathroom vanity or in a place where it can reflect direct sunlight. Mirrors can also greatly emphasize your design style and make a big impact in your space: an ornate framed mirror gives an elegant touch, whereas a ropehung mirror is perfect for a unique textural interest. Choose a mirror with an integrated shelf for additional decorative storage. A mirror can be a fun and affordable way to make a 'wow' statement in your bath space.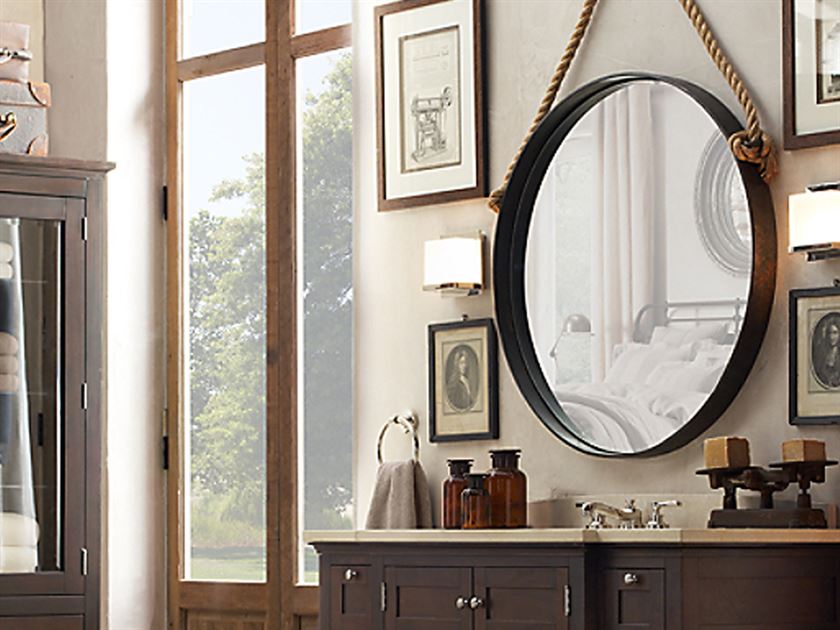 Bathtubs and showers
Bathtubs require a lot of space, but are usually a must-have for families with young children. If you require a bathtub, a bathtub and shower combination is ideal. Many convenient storage shelves and hanging storage racks are available for showers to maximize usage. Glass doors in a shower can make your space feel larger. Today, shower curtains (and curtain hooks) are available in many colours, materials, themes and designs that can really personalize your bath space and even be a conversation piece. Many have the look of a painting, becoming its own piece of art. A colourful shower curtain can lead the way for the rest of your colour selections.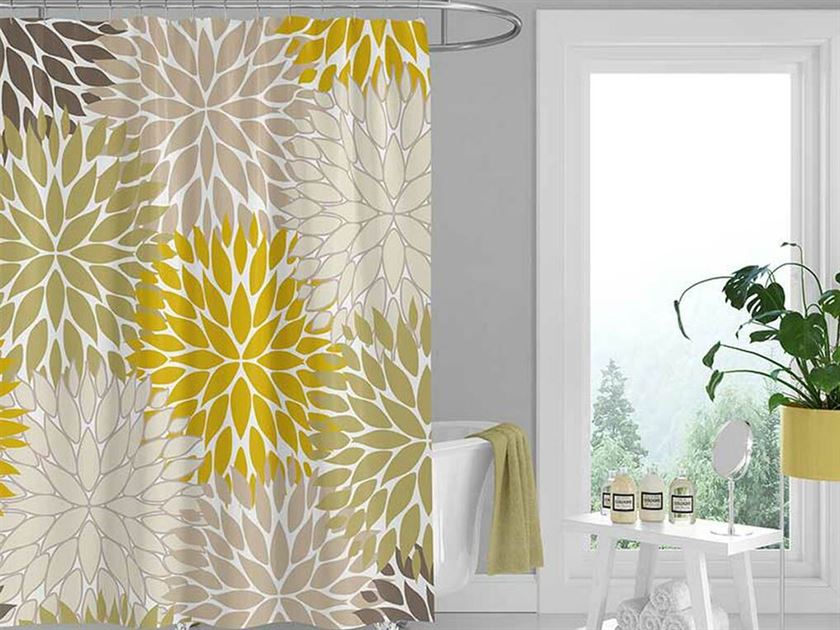 Shelves
Shelves are a great way to add more storage and maximize space in a small bathroom. You can add shelves on walls that have empty spaces and also above the toilet. Showcase your favorite perfumes and lotions, roll small towels, add plants or framed photos, and add small decorative boxes for concealed toiletries – the possibilities are endless!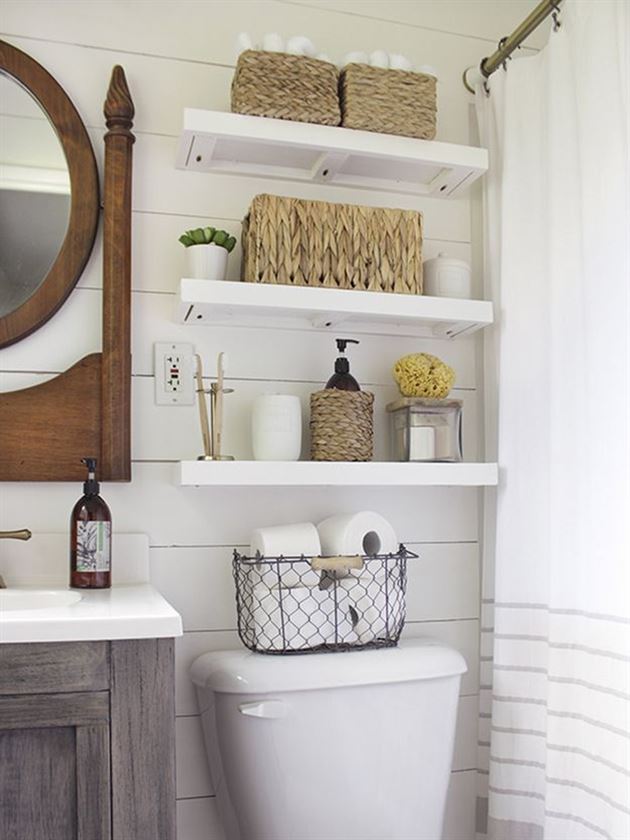 Floating wall-hung vanities
Wall-hung vanities can make a bathroom feel larger as the area underneath the cabinet is open and airy, and the floor pattern is uninterrupted (also making floor cleaning easy). The vanity can also be hung at different heights to accommodate taller or shorter home-owners, and can be wheelchair accessible. Available in modern designs, wall-hung vanities are ideal for a minimalist, contemporary look.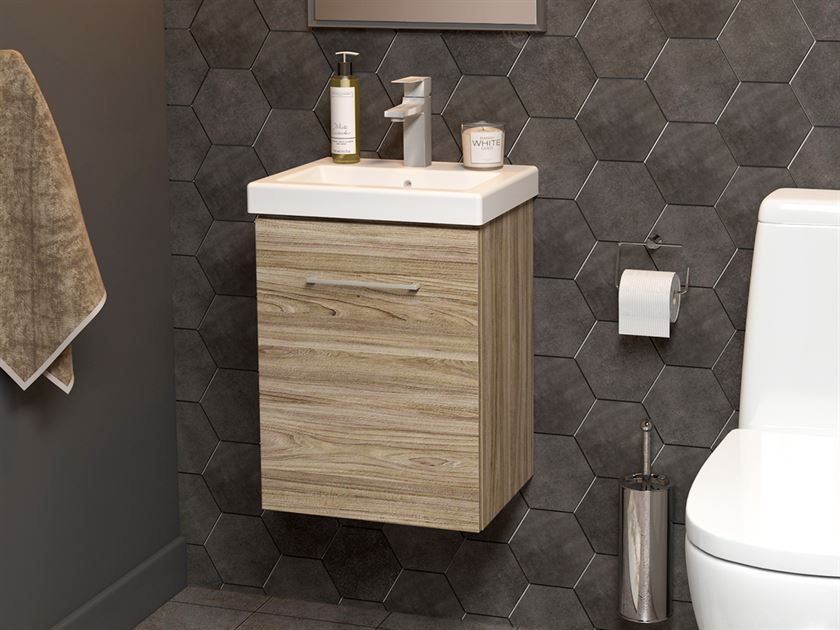 Use vertical space
Sometimes we forget the vertical space that can be used when remodeling. Adding in wall shelves and decorative wall hooks is a great way to add more storage and use every bit of the space available. Shelves and wall hooks can also coordinate with your design style, such as iron farmhouse or contemporary gold hooks.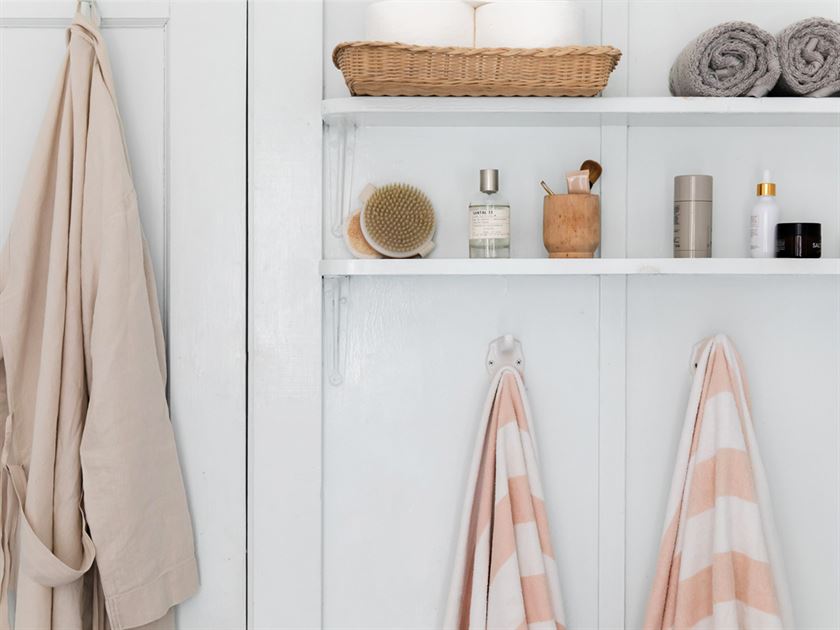 Colour choices
Colours play a major role in the mood of the room. Using dark colours can give a very sophisticated and sometimes masculine look, but light has more difficulty reflecting off of dark surfaces, so ensure you have enough lighting in the space. Light colour shades reflect light easily to create a bright space. Pops of vibrant colours as accents can make the space fun and exciting, where earth colours such as greens and woods give a natural, spa-like feeling.
Like any other remodel, designing a small bathroom takes thought and planning, but choosing options to maximize storage in the room, plus the right colours for your style will create a functional and beautiful space to be loved for years to come.
Avoid partitioning
Segmenting a room is an easy way to make it look smaller than its actual size. So the best way to avoid this is by not having any partitions. Even with the floor, it's best to avoid having any dividers from one area to another. By having one consistent floor finish, you get the feeling that the room is larger.